Niplate electroless nickel plating
Electroless nickel plating is a metal coating with high corrosion and wear resistance, applicable to precision machined parts with complex geometries.

A protective film of nickel and phosphorus alloy offering high hardness and chemical resistance, and with high thickness uniformity, is deposited on the surface of the part.

NIPLATE electroless nickel plating treatments are compatible with all the metal alloys commonly used in engineering industry practice. Thanks to its surface characteristics, electroless nickel plating is the go-to treatment for protection of precision machined parts.
The NIPLATE® trademark
To guarantee the quality of our services we created the Niplate® trademark, an EU registered mark owned by Micron Srl, identifying the coatings we supply. The exclusive nature of the trademark allows us to guarantee the highest product and process quality for our customers.
NIPLATE® electroless nickel platings
The main characteristics of electroless nickel plating
UNIFORM THICKNESS
Electroless nickel plating produces even film thickness over the entire surface of the part, regardless of geometry.
The entire part is coated, including internal zones, respecting tight tolerances without requiring any masking or reworking.
Film thickness can be calibrated with high precision. Film thickness tolerance is ±10% with a minimum of ±2µm.
HARDNESS AND WEAR RESISTANCE
Electroless nickel plating features exceptional hardness, superior to almost all other metal alloys.
Heat treatments performed on electroless nickel platings make it possible to increase hardness and wear resistance properties greatly, achieving hardness of 1000 HV (69 HRC), i.e. more than case hardened or nitrided steel. This makes it possible to increase the wear resistance of plated components significantly, thanks also to the low friction coefficient of electroless nickel platings.
CORROSION RESISTANCE
Electroless nickel plating provides corrosion protection by forming a sealed barrier layer that isolates the part from aggressive external agents.
Electroless nickel plating offers high chemical resistance in multiple aggressive environments, including in the presence of hydrocarbons, or neutral, alkaline, or slightly acidic saline solutions.
Depending on the coating applied and the substrate material, corrosion resistance values of more than 1000 hours NSS (Neutral Salt Spray test) can be achieved.
Aesthetic appearance
Electroless nickel plating has a bright metallic appearance with a stainless steel-like colour.
It features excellent oxidation resistance and thus maintains its colour and lustre through time.
The surface morphology of the part and its surface roughness are not affected by the coating so the final aesthetic appearance will reflect the starting appearance. A matt finish can be obtained by means of sandblasting, shotblasting, or grit blasting.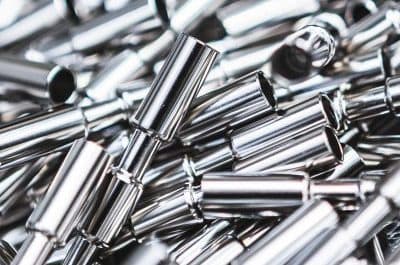 Electroless nickel plating can be applied to the majority of alloys commonly used in mechanical engineering practice.
The characteristics of the alloy do not affect the coating characteristics because electroless nickel plating involves the deposition of a nickel-phosphorus alloy coating on the surface of the part.
By adopting certain measures, the process can be applied to substrates that have undergone thermochemical treatments such as case hardening and nitriding, and to stainless steels.
Carbon steel
Stainless steel (e.g. AISI 304, 316, 420, …)
Case hardened and/or nitrided steel
Machined billet aluminium alloys
Cast aluminium alloys
Copper alloys (brass, bronze, copper-beryllium, …)
Titanium alloys
Certifications and reference standards
PRODUCT TECHNICAL STANDARDS
Conformity with ISO 4527 Autocatalytic Nickel-phosphorus alloy coatings
Conformity with ASTM B733 Autocatalytic Nickel-Phosphorus Coatings on Metal
Conformity with other standards MIL-C-26074, AMS C26074, AMS 2404
CHEMICAL SAFETY
REACH conformity, compliance with regulations on contents of SVHC (substances of very high concern)
RoHS conformity, compliance with regulations on contents of metals subject to restriction
Certification to NSF-51, the standard that defines the minimum hygiene and protection characteristics of materials employed in the manufacture of food contact components and equipment
Conformity with GMP – Reg. (EC) 2023/2006 on good manufacturing practice
MANAGEMENT SYSTEMS
ISO 9001 quality management system certification
Conformity with CMRT and CRT, no use of minerals from conflict zones
Conformity with the IPPC environmental directive
The electroless nickel plating process
Electroless nickel plating is a process of nickel-phosphorus alloy deposition on metal parts. It is performed by dipping the parts in treatment solutions in accordance with defined phases, which differ for different metals, including degreasing, deoxidizing in alkaline and acid solutions, surface activation, and nickel plating.
The nickel is deposited without the use of electric current, by means of a redox reaction between the cation Ni2+ from nickel sulphate and the anion H2PO2- originating from sodium hypophosphite (reducing agent). This makes it possible to create a uniform and calibrated coating over the entire surface of the part, regardless of its geometry.
With the aim of improving the surface properties of electroless nickel platings, functional particles can be deposited within the electroless nickel matrix. An example of this technique can be seen in Niplate 500 PTFE with co-deposited PTFE particles, which impart surface smoothness and a low friction coefficient, and in Niplate 600 SiC with co-deposited silicon carbide particles, which produce extremely high hardness and wear resistance values.
Unlike other companies in the sector, Micron uses its own treatment solutions, developed through the years thanks to our detailed understanding of nickel plating chemistry and process. This allows us to guarantee coatings of enduringly high quality through time.
Differences between electroless nickel plating and electrolytic coatings
In electrolytic processes (also called galvanic processes), such as chrome plating or electrolytic nickel plating, electric current is used for the metal coating deposition process. The applied current tends to discharge following the path of least resistance. Consequently, coatings tend to be thicker on the outer surfaces and corners of the parts, and thinner or even completely absent on internal zones, especially in the case of parts with complex geometries.
Conversely, electroless nickel plating has the significant benefit of being able to coat the entire surface of parts evenly, even in the presence of complex geometries, including internal zones. This allows compliance with dimensions with tight tolerances, avoiding the need for masking or reworkings after the treatment.